S2 | E11 | Bronson Slattery, Student Ambassador at Georgia State University
Ambition has a new voice. It's cultivating pathways from Georgia State University to Wall Street to the world. It's Gen-Z, and it's leading the workforce of the future. Hear Bronson Slattery's story from his senior year at Georgia State and through the lens of a Student Ambassador.
TRANSCRIPT
[00:06] ERIN KING
More people than ever are questioning the value of higher education. We're here to explore why they're right, why they're wrong, and which institutions are rising to the challenge. I'm here with our analytics consultant, Dr. Jacob Bonne, and a very special guest, Bronson Slattery, who is a senior at Georgia State University, Student Ambassador, President of the Actuarial Student Association and Panthers on Wall Street participant.
Welcome, Bronson. We're so excited to have you!
[00:33] BRONSON SLATTERY
Hi. Thanks for having me. I'm really excited to be here.
[00:36] KING
Georgia State's Panthers on Wall Street Program selects the most promising students to take into America's financial district. This program is highly selective and includes an intense six month preparation process.
The purpose of today's episode is to share the college student perspective with universities seeking to learn from it, so can you talk about the selection process for Panthers on Wall Street, how Georgia State prepared you and how your experience on Wall Street gave you real world experience for life after graduation?
[01:08] SLATTERY
Yeah, I would love to. To start off with the selection process, we initially start around January, and we apply through this website called Handshake. That's the online job board for GSU. And then while we're waiting to get a decision, we attend optional bootcamps. And I say optional because the people in charge are always there, and they're tracking attendance, but they're very low key about it. They're more favorable to the students who tend to show up.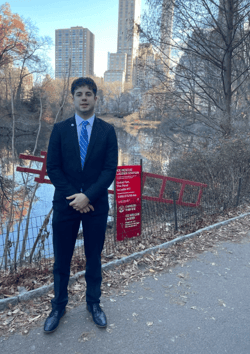 These boot camps are anything from dining etiquette (because when we go to Wall Street we'll be eating with companies and employers) and Finance 101, technical interview, behavioral interview, and then we'll do the professional bio. That's just your average LinkedIn professional bio. Maybe you'll put on our handshake profiles for our students. Then we'll hear back. This is usually around February or March, and then we'll have our Mocktail in April, usually right around this time.
In two weeks, we're going to be having our official Panthers on Wall Street Mocktail this year. This is a little bit different. For Panthers on Wall Street we'll have about 50 to 75 students, and we'll have about 7 to 10 GSU staff and also former Panthers on Wall Street alumni.
The students get a list of maybe 3 to 5 names of Georgia State staff or PWS alumni. (PWS stands for Panthers on Wall Street.) And you need to meet with them and maybe, let's say an hour. There'll be an hour's time, and you need to meet with all of them and make an impression.
It's a little bit stressful, because there are maybe 50 to 75 students all trying to meet with their 3 to 5 alumni. So for me, when it was my experience, I got a little bit lucky, because I did some networking beforehand. One of the people that I had, I already knew her very well, so when I was doing my mocktail, she knew I was going to see her. She said, "You know, I got you, you can move on." I was able to spend more time with the other people, and fortunately enough, I was able to make those connections and leave an impact in my short time.
It's five minutes you get to meet, and you have to really stand up for yourself, because there's a lot of students trying to say, "Hey, I'm very interested in this program. I want to work in New York. Here's why."
Everybody's trying to move quickly. The students that stand out are also the people that are asking the questions to those that are volunteering their time for the students.
After that, all of the staff members that were there and PWS alumni will meet, and two weeks later (it's really quick) they'll send back the Super Day. (This is the Panthers on Wall Street Super Day.) It's from 9 a.m. to 2 p.m., and it's back to back interviews; and you have to schedule a slot. There'll be two people in the interview with you. One will be focused on behavioral topics. One will be focused on technical topics.
For me, the person who was in charge of my technical topics was the lead of the Panthers on Wall Street program. And I knew that beforehand, so I knew that he would be asking me about what GDP is, where unemployment is, finance-heavy topics that you really need to do research to know these numbers, because he's going to be asking real numbers.
Then I actually had my boss from my student assistant employee job be my behavioral. She was asking me questions like, "What do you think you can deliver to your cohort mates?" Questions like that are very important, because you can only pick 12 to 14 students out of all these these candidates.
After that, you'll wait about two weeks, and before the month of June, you'll hear back if you got it. Then from there, June until, for me it was December (we're trying to get back to September, because that's the big finance recruiting season, August and September). So we try to go around there, and there's a lot of training that takes place during that time.
One of the ways that I prepare for this, because not just for the interviews that were very challenging, but when you're actually doing that June to September, December preparation, you're getting quizzed. And there are former Panthers on Wall Street alumni that come back to actually do the quizzing.
These are current CEOs, current Directors, Managing Directors, hiring leads, and they ask the big time questions. If you freeze up in front of them, it's not just that they're going to want to correct you. They're also going to take a little bit of note of those who are really here and really putting the effort forth and those that are just along for the ride and trying to just go to New York.
I initially got word of this experience when I came in as a freshman. It was August 2019 for me, and I was part of this program called Honors Experience and Business. During this program we had to come in late August, sit down for a couple of hours, and learn about all the opportunities available in the Business College for Georgia State University. One of them was Panthers on Wall Street and the Panthers immersion programs.
We were touring the business school, and we happened to come across one of the student assistants there; and he was actually a former Panthers on Wall Street alumni. He was one of the few people to actually do it as a freshman. That was my first hint that maybe I need to talk to this guy. And when we were talking, he gave a little pitch to Consulting Club. I knew that consulting is very big in Atlanta, specifically because we have some big offices down here. I kept word of that.
I decided to meet with him after. I exchanged emails, and we went to talking and he said, "Look, if you want to do Panthers on Wall Street, you need to network with people who are in the cohort now and pick their brain and understand their experience."
So that's what I did from August until January. I met everybody I could that did this experience before, and I became friends with a good group of them. The one that I met that day with the honors experience in business and a current employee at EY Parthenon, who is like a big brother to me. Talking with those people and having such high quality conversations in relation to that molded me to be a strong candidate.
Part of the other preparation was going to those boot camps, because that was a way to get my face in front of not just the program leads but other students and see where other students are at and see how I can continue to develop myself.
Another way that I was able to do this is getting good news sources, which was very hard to do as a freshman in college. I needed to find ways to learn about finance, but not just finance. I needed to get through the weeds and learn about what is actually important. So I started asking other students, and I started asking program leads for the Panthers on Wall Street program; and everybody came back with stuff like New York Times DealBook or maybe CNBC. One of my professors really loves Jim Cramer's, "Mad Money." I started looking at some Wall Street Journal podcasts that really helped me formulate opinions about what's going on in the market.
That's one of my biggest takeaways from this experience. Before I even stepped into Panthers on Wall Street, I had invested in an IRA. But really just because everybody said do it now rather than do it later.
I'm a math guy. I'm an actuarial science major. I understood that my money is going to compound. So I did that, but I really didn't understand what an ETF was. What's going on in the stock market. Why does gold have a price? Why are these commodities priced? What is GDP mean in relation to everything? But now I do.
Now I can have opinions about these things and have highly intelligent conversations about these things. I'm really not afraid to be interviewed by some of the big dogs or by anybody when it comes to "pitch me a stock" or "what's going on with unemployment right now," or "where do you see GDP shifting to?"
And I know we're in a crazy time, especially in the global environment we're in, but that's why you have to keep adapting and having good news sources. That's what this program has taught me.
Also, with regards to my cohort members that I went to New York City with, I developed a great network with them. There are some people going off to New York City this summer to do investment banking, they have three or four. We also have some people going down to Dallas to do some investment banking, and these are people that I'm going to have lifelong relationships with; because we did all this work together.
We sat through two-hour meetings after going through school every day, and summer after our internships we would meet together and learn about what's going on in the world. We all had different roles to help keep each other informed, and my role was reaching out to alumni and making sure that we would have alumni to speak to us at each event and tell us: How can we be prepared? What should we look for when we come to New York? How should we pitch ourselves? Should we pitch ourselves? It's going to be December, what does that look like in New York? And we were even able to talk about COVID and what's going on.
Fortunately enough, one of the biggest takeaways for me was understanding what it would be like to work on Wall Street. I was sitting up in NOMURA's big office down in Manhattan, and I was looking down outside at the city at the hustle and bustle and was like, this is what it would be like to do this every day and be in this environment.
[11:37] DR. JACOB BONNE
Bronson, what does it mean to be a student ambassador?
[11:40] SLATTERY
For me, being a student ambassador means to serve without self. And that's something I've actually learned through one of the societies I'm in at Georgia State. We're taught to be present at all events and not bring in everything that's going on in our personal lives, because that's going to distract us from completing our mission as a team.
Thinking like that and talking like that is something I personally never did. I've been on football teams in high school. I was on a robotics team and football team. I did Ultimate Frisbee, so I knew what a team was — but not a unit.
And that's what being a student ambassador is: Being one for all and all for one.
Specifically with regards to your university, you need to represent your university in the way that you know how to do. Last semester and during the insurance industry's Week of Giving, we partnered with the Nicholas House, which is big. It actually has a home down by Grand Park in Atlanta, and they focus on helping homeless families achieve self-sufficiency. We donated our time for a week. We did a bake sale, raised a few hundred dollars for them. We volunteered on site. And I personally volunteer a lot of my time with them because I love what their message is.
But I saw a lot of students change their mind about what it means to serve, and that's something that they don't get to experience, especially actuaries. A lot of the times they're studying or getting their heads in the books, but this is very important for students to learn.
And being a student ambassador, you understand that. You understand that you need to commit time to serve.
What I've understood from being a student ambassador, there are people who will spend time and show up, but they're not really present. It's about what you put into it. The more you put in, the more you're going to get. For me, this is what I took away from being a student ambassador.
[13:50] BONNE
One of your roles as student ambassador is to lead programs for professional development. Georgia State students have access to a wealth of resources, including access to Steppingblocks and the Digital Career Counselor.
Can you talk about how the needs of students evolve from the first day of class as freshman to graduation day as a senior as it relates to career services, professional development and perhaps where the gaps are in the system?
[14:13] SLATTERY
I definitely see this a lot. At my student assistant job I'm always having rising seniors or graduating seniors come in and say, "I'm graduating soon. I need a job. Who can help me get a job?" And my response is always, "Do you have your Handshake account set up?" Because there's no magic fairy that can come get you a job as you need a job. It's about putting the work in early.
That's definitely something I've learned being a student that started as a freshman, and I've seen a lot of students around me at my age level, a little bit older, start early; and those are the ones who are getting their jobs and being able to not have anxiety about what they're going to do after graduation during their senior year. They're able to focus on their grades, maybe go on vacation.
Students who do not start early are less educated about the whole job process, even with all the coursework we have about professionalism and the value of business and the value of promoting yourself.
A lot of the times when these students come in, not only do we have to help them set up their Handshake account, but now we have to help them set up their resume. And now we have to help them log on to these career sites and understand you can send a few applications on this website...and then they come back the next day and say, "I haven't heard anything." And then I say, "Well, you need to wait at least two weeks to reach out."
That kind of not knowing the nuances of how to apply for a job, what is the appropriate time to wait before I reach out to anybody, should I connect with somebody beforehand to talk about it, and understanding that most of the jobs you're going to land it'd be a lot better if you knew somebody beforehand, whether you knew somebody in the company or somebody in the hiring process, or that they're looking for specific types of students.
A lot of companies will come to the Career Advancement Center and ask, "We're looking for GSU marketing students, reviewing some undergraduates." But these students don't know that most of the time.
To go off on a little tangent: A lot of the times when you're a freshmen, you come in, there are classes that try to help you to understand that you can choose different majors, and it's okay to switch your majors.
But a lot of the times there are no classes in your freshman year that say, hey, well, maybe for those students that are ready and know what they want to do, maybe let's start your resume. Let's get what you're doing this semester on there. Then you can start applying for internships, because a lot of companies do offer freshman summer insight programs or summer scholar programs or opportunities just for freshmen. This is something you can capitalize on and get on your resume as a freshman, and then continue to develop sophomore, junior and senior year when you're looking for jobs.
But the students who don't evolve from the first day aren't going to be aware of all these opportunities. With career services and professional development, most of the gaps tend to come from students just not being aware. And even a lot of times there are some students that are aware, but they just don't want to take action on it, because they don't understand the importance of starting early.
It's just like why you look back when you're 30, and you start investing and say, "I should've started when I was 18," because that 12 extra years you could have had investing. It's the same thing when you're a senior, and you look back and say, "Oh, I could have done a lot of this two or three years ago." Well, that's two or three years you could have been looking through your college experience with a different lens, already having done some of the things.
[18:12] KING
Another leadership role you filled during your time at Georgia State is President of the Actuarial Student Association. What would you like Georgia State and other universities with opportunities like this for students to know about your experience?
[18:27] SLATTERY
For me, I never really understood the importance of the Actuarial Student Association until I realized, you need to surpass actuarial exams, and these are the people that are going to be in the trenches with you. And you start to extrapolate that a little bit. You understand there is a business economics or there is a regular economics club. There is a political science club. Because those are the people that you have a lot of common interest in, and you're going to do a lot of similar course work together; and you're going to be thinking about some similar topics.
You need to develop relationships where you can talk about course material outside of the class, and these are where you will develop lifelong relationships. I personally have a group of buddies who already graduated. They're in Puerto Rico. They've been there for the past six months waiting to start their job. They're lifelong friends, and they were the former presidents of the Actuarial Student Association. They taught me how to grow and develop the organization.
One of the most important things they taught me is the relationships you not only develop in this student org., but with the employers, are what's going to be important because you're going to be able to add them to your own network. So that's what I started doing. And when you reach out to these employers, you're able to get other students jobs.
What you realize is that's how students can get most of their opportunities is through their student organization. Because when you bring employers on campus or you have a student org that may be doing professional development or recruiting and speaker series every two weeks, two times a month, bringing four companies that month, [those are] going to be opportunities that they didn't have before.
You're going to be able to tell your students in class, "Hey, you should come this Friday because we're going to have this big insurer coming, and they're looking for opportunities for this summer." I think that's very important because a lot of the time the companies are coming to recruit because they're looking for students. Not many people understand that. They get a little anxious or worried like, "The company's coming. They just come in to visit. They just come in to talk a little bit. They don't want me. Why would they want me?" Well, they're coming to get students. They're coming to your university to get you.
Where there are areas of improvement is where the students aren't aware of these student organizations for their major. Most of the time they're aware of maybe some social clubs or some organizations that they're put in right away like Freshman 101, or something like that. But I think professors can...broadcast these associations more.
Especially for me, I know I've partnered with actuarial professors, and each time in the beginning of these semesters, for each semester, they'll do for the whole first week, they'll advertise the student organizations before and after the class. That way we're getting as much recruitment as we can, and the students, they need to show up for class. So it's like free advertisement, just to say it like that.
Students will realize they can show up one time and a recruiter can fall in love. And that's a lot of the time what happens. As long as students are aware of those opportunities, and they show up, a lot of good things can happen.
[22:00] BONNE
In January, we had Dr. Belinda Higgs-Hyppolite on our podcast, who's the VP for Diversity and Inclusion and Chief Diversity Officer at the University of Oklahoma. She shared why diversity is not our problem but our promise for a better future.
What is your take on diversity, equity and inclusion as a student at Georgia State?
[22:18] SLATTERY
I definitely agree with Dr. Higgs. To piggyback off that a little bit, I've definitely been able to realize from being at Georgia State University that diversity of thought leads to a higher quality and quantity of ideas.
You don't always want to be picking the brain of somebody that looks like you or has the same experience as you. And that's what we find in a university like Georgia State that has a lot of international students.
Also just to promote Georgia State really quick, it's not an HBCU (a historically black college or university). It's not an HBCU, but it does graduate the most African-Americans in the United States.
There is a breadth of diversity at Georgia State. We have a lot of international students in the actuarial science discipline. That impacts me, because I'm working with those students, whether it's a group project or it's coursework or within the organization, Actuarial Science Student Organization. I'm developing some great relationships with people that I never would have had the opportunity to.
And it's very important to do that, because you start asking questions that you really didn't think you would before and you start understanding that diversity could be something that's very important to you. And you start understanding why. Because diversity, I'm going to just be able to learn more. I'm a learner. I'm a student, so that's what inspires me, is picking other people's brain, having conversations, talking about all sorts of things.
Also in Georgia State, we love all cultures, and that's something I've personally been able to experience. I had a group of friends take me to a Taste of Africa last semester, and I've tasted some African food for the first time; and I watched a lot of dancing. There was a play. And for me that that's just fun. It's fun to go do those things and be around there and not stick within your own box, in your own comfort, just to continue off being able to ask questions that you never asked before.
I find myself asking a lot of companies, I come to speak with the Actuarial Student Association, that profess that they have...departments associated with diversity, equity and inclusion. You have to ask them, "I know you guys are saying you're trying to implement these policies...but at the highest level of your company in those C-suite offices, is diversity being represented or does everybody pretty much look the same?"
And most of the time you'll get 30 seconds silence, awkward silence...and that's important, because I'm personally a white man, but I have to look out for my peers. And my peers may be a black woman or an Asian man or a black man or an Indian woman. They're not going to just look like me, but I have to be the one to ask those questions, because sometimes my peers aren't going to ask those questions; and I'm sure enough to go ahead and do that because that needs to be talked about. It needs to be asked, especially when you're coming to a university like Georgia State.
Some of the things that I've been able to develop from my relationships with people that don't just look like me or think like me, have the experience like me, interested in the same things, is I learned to reserve judgment because my normal is not their normal, which is not another person's normal. And you really realize to be and exist and then let them exist, because you don't want to be judged for maybe the things you're doing or what what you like. So why would you judge somebody else for doing that?
That's something that's not taught in every state or in every university or in every high school or in every middle school. But at Georgia State, it's experienced. It's like a process that you learn, you become aware of, and then you have a different lens to look through your perspective. And I think it's very important. Diversity, equity and inclusion is something that is very, very present at Georgia State University.
[26:57] KING
Lastly, Bronson, what is your best memory from Georgia State as you close out your final year?
[27:03] SLATTERY
Yeah, I was thinking about that a little bit. For me, I got a call from Deloitte Consulting last, I want to say, November, and it was an offer for an internship for an actuarial summer scholar position this summer. And I was just ecstatic because I had interviewed with a lot of companies, and I had interviewed with Deloitte; but Deloitte was taking especially long to get back. I was getting some bad news from some other companies, and I was feeling down on myself.
I've sacrificed so much of myself for other students, for this university, for Panthers on Wall Street, helping other people grow. I'm seeing all my friends get the jobs they want. I'm thinking, you know what? I put the same effort in. I've applied to the same amount of jobs. I may have a different major. I may be applying in a different sector, but what's going on? And I just started thinking to myself, are you doing this for everybody else, or are you doing this for yourself? You talk about sacrificing yourself for the university and sacrificing yourself for other students.
But I realized that's who I am as a person, and that's what I enjoy to do. I experience, so I can share it with others; and I hope others will share that with me because I'm trying to learn everything I can. And I hope I can help others do the same.
So for me, that call from Deloitte was very important. What happened was, it was a Friday morning at school, I was working my student assistant job. It was like 11 a.m. I just got off of my job. I was going to host some employer events for the Actuarial Student Association. We were waiting to get started, and I was with my two other friends. I got a call and I was like, should I answer, it's Atlanta. And they're like, yeah, so I answered.
It said, "Hey, my name is from Deloitte."
And my heart started racing a little...this is one of the last companies that I might hear from. My whole college experience was flashing before my eyes.
She said, "I'm excited to offer you..." And as soon as I heard that, "I'm excited," I muted my phone and was like, "Yes!" My friends saw my facial expression, and they just started jumping up and down in their study room and making the most noise. And we were all happy.
I had to collect myself to get back on the phone and listen. I was like, "Yes, I am excited. Yes, I'll be looking for the email. I'll review the documents." I got off the phone, and they hugged me. It was just an amazing feeling, and I felt like everything I was working for came to fruition. But I'm not done, because this is an internship. And I do need to either secure a full-time offer or find a different company to work for. Because I do know my worth, and I do know that I can offer a lot. So I've got to continue to grow, and it's part of my journey. But that was definitely, I think, my best memory from Georgia State.
Another memory that I'm pretty fond of was in New York City during the Panthers on Wall Street trip.
We actually stayed at the New York Athletic Club right by Central Park, and it overlooks Central Park. We had just got done from the day meeting with a few companies. It was nighttime, and it was the night before leaving.
I was outside with a couple of friends, and we were having some cocktails on the roof of the New York Athletic Club looking at Central Park; and I just realized I was living what my 19-year-old self really dreamed of. And this was after I had got the Deloitte call, and I knew I'm going to be interning for them.
I just felt like I was on the right path, and I just have to keep continuing forward.