There are so many factors that go into choosing which college to attend: tuition, scholarships, location, prestige and plenty more. However, the scenery often gets lost in the mix. If you're going to be spending the next four years of life on this campus, why not consider the aesthetic? The environment of your college's campus can be one of the most impactful factors in your perception of the college experience as a whole.
For an even more comprehensive look, we've included average cost of these universities, covering out-of-state tuition, room and board, books and fees. Keep in mind though, visiting every campus on your wish list comes with a high price tag. Use this guide from CreditCards.com to minimize your costs on flights, hotels, road trips and food for more affordable (and enjoyable) prospecting trips.
Location: Mount Berry, Georgia
Popular majors: Biological and Biomedical Sciences, Business Management, Marketing
Average Cost: $50,632
Berry College is a private liberal arts college in Georgia, and is the world's largest contiguous college campus. These 27,000 acres have earned it the number one spot on our list. Berry College is popular among cyclists, equestrians, hikers and even deer, as Berry College holds a population of over 2,500. There is also Swan Lake and Mirror Lake, where bird watchers can see them glide across the lake all through the year.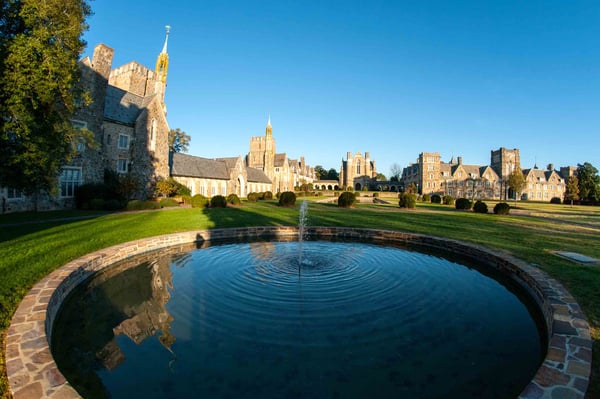 Location: Notre Dame, Indiana
Popular majors: Finance, Accounting, Economics, Political Science
Average cost: $71,000
If you've ever visited Notre Dame, you know why this university is on the list: The Golden Dome. This gorgeous structure gains Notre Dame a place on most lists of gorgeous college campuses. There's also the Basilica of the Sacred Heart, which parades the largest collection of French-stained glass in the world, as well as a national record-breaking bell tower.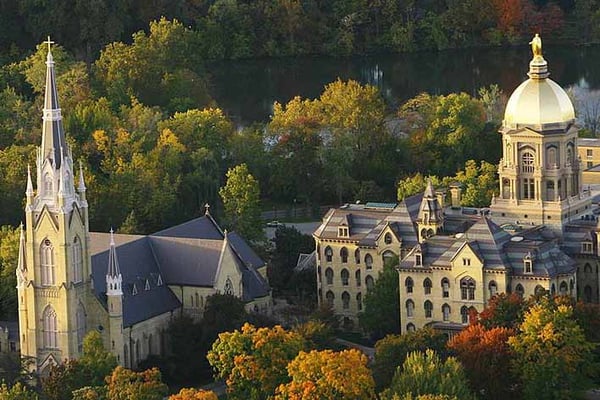 Location: Charlottesville, Virginia
Popular majors: Economics, International Relations and Affairs, Psychology
Average cost: $61,000
The red-brick and Jeffersonian-columned buildings of the University of Virginia were conceptualized by founding father Thomas Jefferson himself. The presidential-style design brings so much history to mind, and you can't help but admire how well it has preserved its original design. In 1976, the American Institute of Architects dubbed the University of Virginia "the proudest achievement of American architecture in the past 200 years."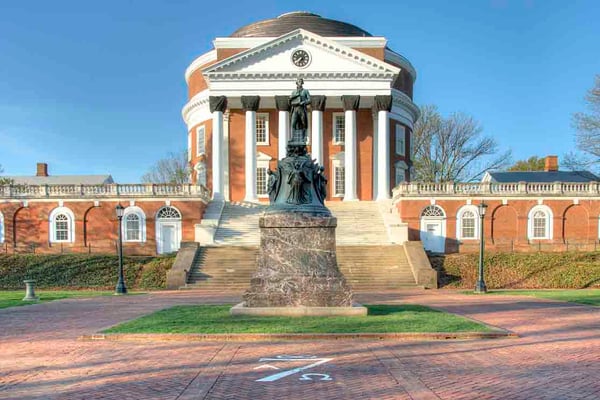 Location: Sewanee, Tennessee
Popular majors: Economics, English Language and Literature, History
Average cost: $61,000
This 13,000 acre campus in Middle Tennessee is one that cannot be missed. It's easy to wonder how they got this campus in the middle of the rolling hills and valleys of the Cumberland Plateau. The All Saints Chapel is certainly the apple of every visitor's eye with a rose window, arched ceilings and an unbelievable tower. The location of the campus also gives it the best fall foliage on this entire list.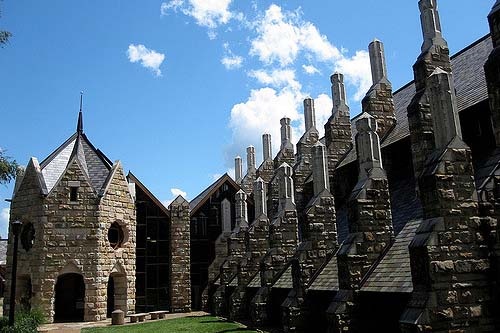 Location: Chicago, Illinois
Popular majors: Biology, Political Science, Public Policy Analysis
Average cost: $74,526
University of Chicago is unique because it's one of the more urban universities on this list, but still has the beauty of a rural one. Its Gothic-style buildings are ripped straight from the University of Oxford, but that isn't all. The university also sports a botanical garden, and several of the buildings have earned a spot on the National Register of Historic Places.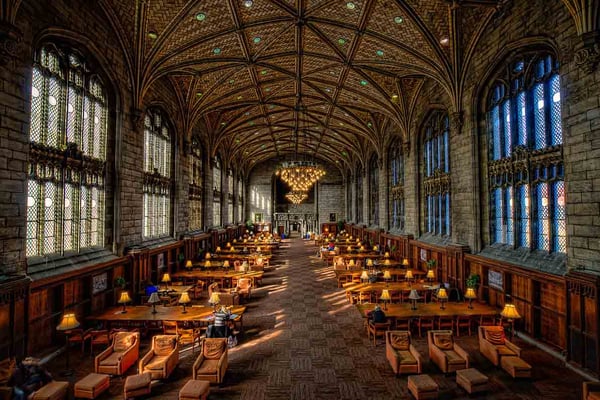 Location: Boulder, Colorado
Popular majors: Biological and Biomedical Sciences, Social Sciences, Engineering
Average cost: $54,314
In 1919, renowned architect Charles Klauder came up with the unprecedented design of the University of Colorado. This design later became known as "Tuscan Vernacular Revival," which includes red-tiled roofs and sandstone walls. These buildings also have a distinctive can't-miss-it backdrop: the Rocky Mountains.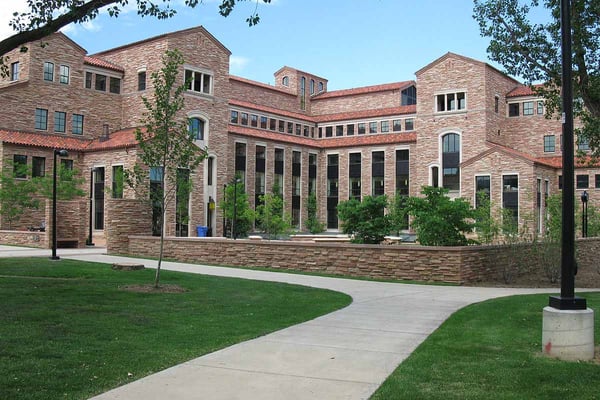 Location: Honolulu, Hawaii
Popular majors: Business, Management, Marketing
Average cost: $48,606
This place would be gorgeous with or without the university, so it's needless to say the campus is beautiful as well. The university is surrounded by lush palm trees, a beach, region-unique flowers and the university's own coral reef. Due to the heavy rainfall the area receives, one can usually find a rainbow touted over the campus as well.
Location: Stanford, California
Popular majors: Computer Science, Mechanical Engineering, Human Biology
Average cost: $44,757
The same person who designed New York's Central Park is responsible for the beauty that is Stanford University. A stone's throw from Silicon Valley, this school rejects the super-modern campus you'd expect, and instead has a Spanish-colonial vibe. The crown jewel of campus, the Stanford Memorial Church, is decorated with vibrant stained glass and multi-colored mosaics. You'll find the designers' inspiration in the churches of Venice.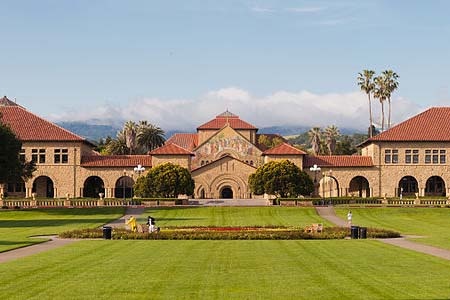 Location: Bryn Mawr, Pennsylvania
Popular majors: Social Sciences, Foreign Languages, Linguistics
Average Cost: $46,030
You can see influences from both Oxford and Cambridge in Bryn Mawr's Gothic style, which also happens to be the first of its kind in collegiate design. This private liberal arts college has inspired several other Gothic-style universities in America, including both Princeton and Washington Universities.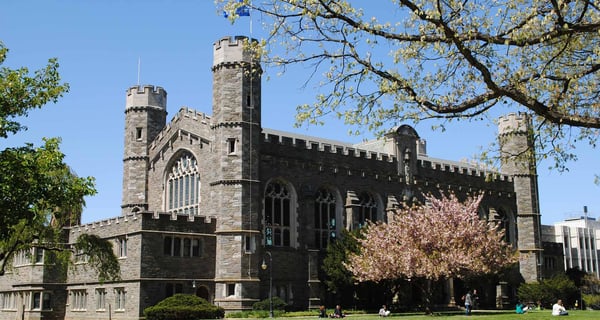 Location: Elon, North Carolina
Popular majors: Business/Commerce, Communication and Media Studies, Psychology
Average cost: $49,642
The only school on this list to also be classified as a botanical garden, it's no secret that Elon University has a plethora of gorgeous flora. Features like the Alamance building and the Fonville fountain serve to complement the well-kept gardens of the university.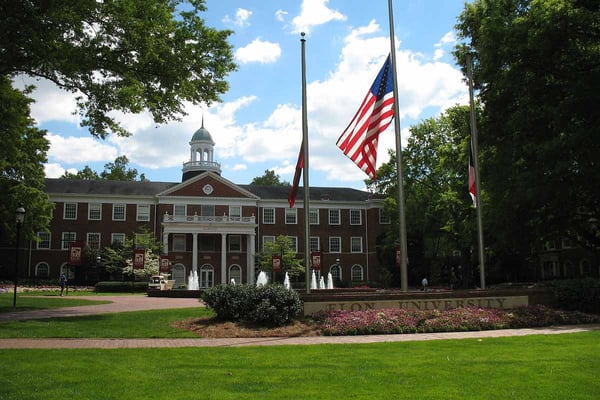 Choosing a college and career path may seem daunting, but start with something that interests you, like a beautiful college campus, and build your plan from there. Consider what you can afford based on scholarships, loans and other federal funding you've been awarded through the FAFSA. Then research college majors based on what you think you may be interested in, and discover the career paths that match.
Want to learn more? Try Steppingblocks for free today.