A Geo & Gender Analysis
The answer to our title question will not come as a shock to you. Neither will the fact that males dominate the industry and flock to cities like New York, San Francisco and LA. But did you know Denver attracts top tech talent, too? Or that MTV and NASA are hiring Virtual Reality Consultants?
In our labor market trend analysis of 45,927 employees from the years 2000 to 2017, we uncovered a few insights about in-demand jobs in the tech industry that may not be so obvious. For instance, Seattle ranks number three in top U.S. cities for data scientists, and Microsoft does most of the hiring.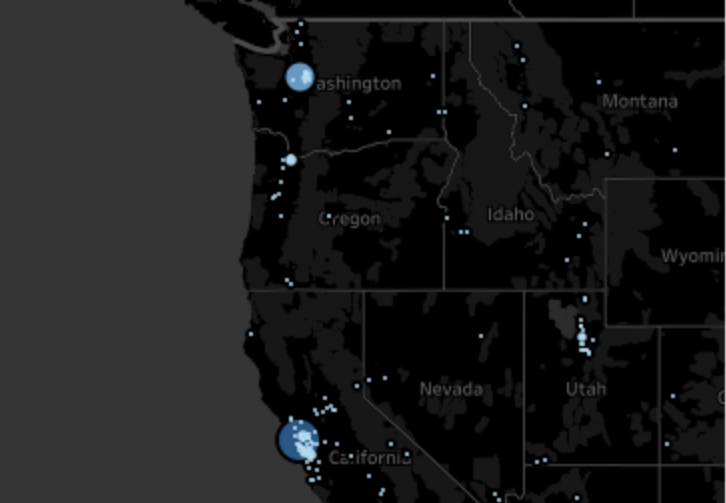 Steppingblocks Geographic Analysis, Data Scientist
Unlocking geographic hiring research is important at every level of the U.S. Labor Market. If Student X wants to work for Apple, they'll learn the most opportunity lies in San Francisco and Austin. If Recruiter Y needs an experienced Cybersecurity Engineer, they'll find the largest talent pool in Washington, D.C. and San Diego. And if University Z wants to diversify revenue streams and build targeted donor outreach campaigns, they'll know the optimal cities to hit based on alumni attributes.
How do genders compare by in-demand job titles in tech?
If you zoom out on our analysis, only 24% of employees represented are female. With over 500,000 in-demand computing jobs available, but fewer than 40,000 new computer science grads to fill them, this paves unprecedented opportunity for women to step in and take advantage of the world's growing need for tech.
Research and consulting firm Accenture has partnered with Girls Who Code to triple the number of women in computing by 2025 — or at least get close. But based on our labor market trend analysis, they're facing an uphill battle. There are fewer women in computing than ever before, and this number will continue to decline if nothing is done to reverse the trend.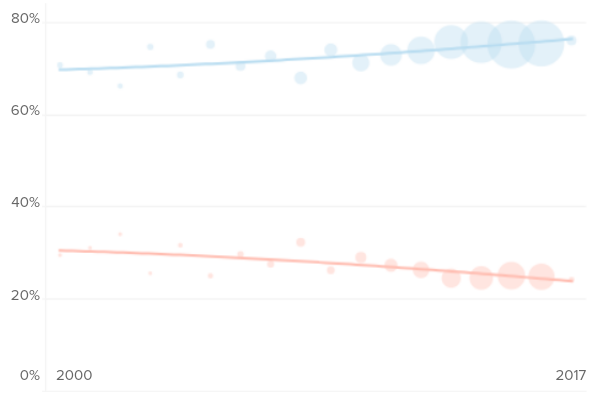 Steppingblocks Growth Trend by Gender
We took our gender gap study a step further by breaking down the gap by job title and found that Master Data Analyst reports the most equality out of these 11 titles. DevOps Engineer reports the worst. IBM, a top employer for DevOps Engineers, won the 2018 Catalyst Award for their efforts to advance women in business. Hear their stories, tips and pledges to create an equal workplace here.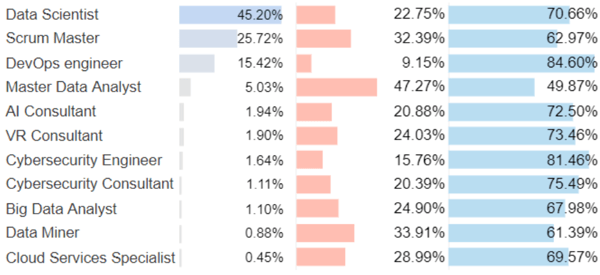 Steppingblocks Gender Gap by Job Title
What are the top 7 in-demand tech jobs to strive for in 2020?
1. Data Scientist
Top City: San Francisco
Top Employer: Microsoft
What they do: Data scientists work in a multidisciplinary field that can be roughly broken down into three sought-after types: the Software Engineer, the Statistician and the Machine Learning Expert. One data scientist may be a highly-skilled programmer, while another is a master of numbers and theoretical interpretations.
2. Scrum Master
Top City: New York
Top Employer: Capital One
What they do: Scrum Masters manage the process of how information is exchanged between IT and business members in order to facilitate agile software and product development — think project manager. They track progress, monitor budgets and ensure adherence to schedule and scope.
3. DevOps Engineer
Top City: San Francisco
Top Employer: IBM
What they do: DevOps Engineers coordinate alignment between IT and business operations to manage infrastructure, support software code and monitor performance. They must have a solid understanding of programming languages and automation tools as well as the soft skills required to run an effective team.
4. Master Data Analyst
Top City: New York
Top Employer: The Coca Cola Company
What they do: Master Data Analysts interpret and analyze trends in complex data sets turning information into insights and ultimately decisions. They improve data quality and accuracy by performing regular audits and troubleshooting issues for internal and external partners.
5. AI Consultant
Top City: San Francisco
Top Employer: Mitre
What they do: AI Consultants formulate custom strategies using machine learning tools and algorithms based on the client's challenges and opportunities. They design, implement, integrate and train their customer on new data initiatives, such as natural language processing and predictive modeling.
6. VR Consultant
Top City: Los Angeles
Top Employer: Google
What they do: VR Consultants research market needs to design and develop virtual and augmented reality experiences for a variety of industries from aviation to education. They provide guidance on technical, creative and business logic suited to the client and their user.
7. Cybersecurity Engineer
Top City: Washington
Top Employer: Booz Allen Hamilton
What they do: Cybersecurity Engineers define security protocols and lead incident response efforts when a breach occurs. They conduct penetration tests to locate vulnerabilities and work directly with machines and code to secure against future attack. Experience with Firewalls and proficiency in programming languages are typical requirements.
Want to learn more?
Ask about Steppingblocks for your school, and get full-story graduate insights without the need for manual surveys. Access a dataset of over 100 million alumni, and learn where your tech stars live and work 5, 10 and 20 years after graduation.
Want to be a tech star? Get data-powered career exploration with the Steppingblocks Student Platform. Research your future career with real-world stats about your major, your interests and your dream job title. Start your 14-day free trial.