What can our data do for you? It depends on what you're looking for. Finding success in any given career path is usually not based on luck or chance. It's based on a series of dependent choices that connect to create a defined course of events leading from one step to the next. Choosing a college major leads to developing a job skill set, which lands an interview with a top employer and earns a better shot at long-term growth potential.
Did you know the top job skills held by software engineers at Facebook are Python, Java and JavaScript, whereas at Bank of America Microsoft SQL Server tops the list with Python not even in the top 10?
Did you know marketing managers at Johnson and Johnson are knowledgeable in Pharmaceutical Sales job skills, while those at the industrial giant John Deere are more skilled in Product Development?
Did you know that more than 70% of data scientists hold a master's degree or Ph.D. in a technical field like statistics, computer science or physics?
Steppingblocks knows.
These are the types of insights to give you an edge over the competition, and we are here to help. Our dataset consists of detailed profiles of more than 23 million people — and that number is growing.
Just how widespread is that data? Below is a visualization of every person's U.S. location within our database. For all of you data visualization enthusiasts, this was built in Python with an incredibly cool tool called Datashader that allows you to create accurate depictions of enormous datasets.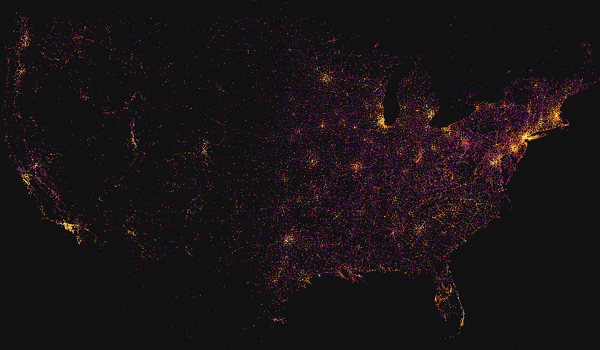 And it doesn't stop there. Steppingblocks can give you insights almost anywhere on the globe. Through our simple and interactive web application, discover insights about a career that interests you from engineering to agriculture and everything in between. This is information you simply cannot find anywhere else. Forget spending hours on Google. Jumpstart your career, and find the right path here.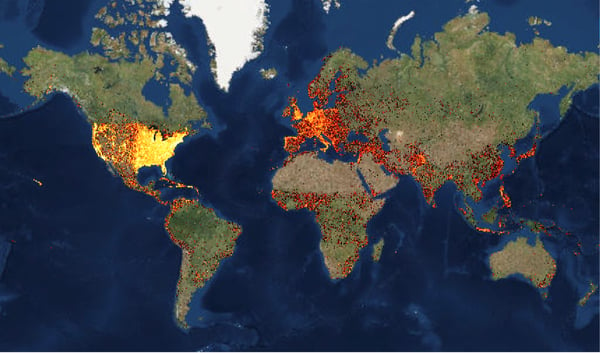 Schools and universities. College scholarships. Job skills. Nerdy anecdotes. Everything you need is in one easy-to-use package.
No matter what you want to be, chances are somewhere on that map is a person whose career path can teach you something. Build your plan with confidence based on data, not guesswork, and set yourself up for a lifetime of growth by making informed decisions when it matters most — now.
You've only got one future. Navigate to it with Steppingblocks.