85% of jobs that will exist in 2030 haven't been invented yet.
So how does our workforce keep up with demand at the skills level when we don't even know what to learn? This widely quoted statistic published in a report by Dell Technologies, speaks to the skills gap and the growing distance between student assets and employer expectations. The pace at which we seek knowledge will accelerate, and the way we find jobs will change — they might find us, if we're qualified.
But it's not 2030.
It's 2019, and top employers are hiring for the skills of today. Our institutions of higher learning are responsible for bridging the skills gap by developing a curricula that makes sense using technologies that scale. As job seekers, we've become accustomed to not only good pay, but great perks. So for these trending companies who offer the best, we looked to our data for answers on who's hiring what and how much they're paying.
The Kitchen at eBay brings the food truck movement inside with picnic tables, ice cream carts and a clash of interesting cuisine.
The heart of the eBay home is in its new community kitchen. Employees can experience the great indoors with park-like vibes and foodie-friendly dining. Socialize, or not, with an assortment of seating from picnic tables to private phone booths to the quintessential concrete block.
Average Salary for a Chief Product and Technology Officer: $184,000
Top Job Skills: eCommerce, Excel and Analytics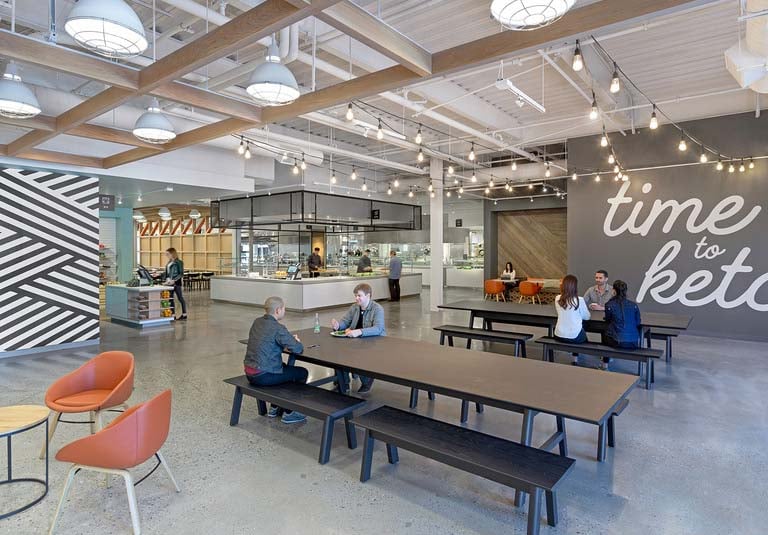 Photo by Jasper Sanidad
Pure function marries striking visual design to reflect the hardworking creatives employed here.
Capital One Labs builds better banking experiences through product, technology and design. To promote innovation, the colorful space combines collaborative experiences with isolated areas for rest. The workplace empowers its employees further with open doors to leadership and cheerful environments to learn.
Average Salary for a Data Scientist: $124,000
Top Job Skills: Sql, Python and Java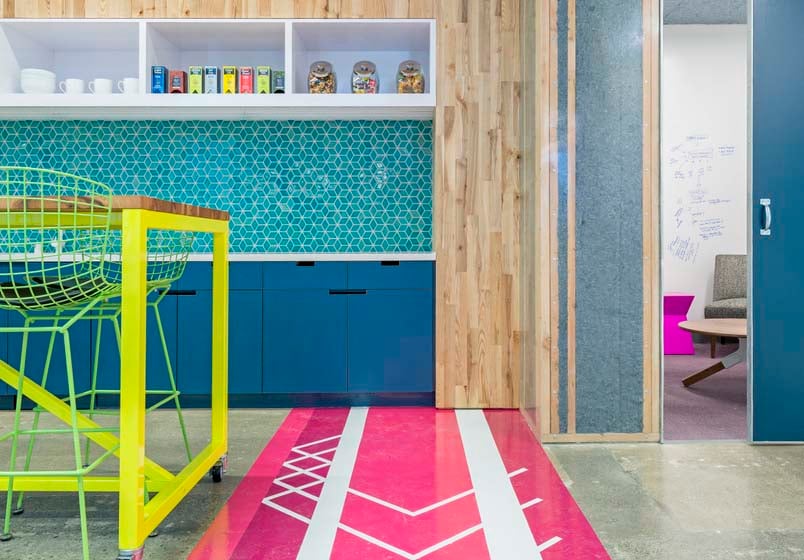 Photo by Jasper Sanidad
Vans, Costa Mesa
Work, meet life. Art, music, sports and street culture come together on 14 acres of sustainable, working neighborhoods.
The Vans family celebrates over 50 years of community in 182,000 square feet of office space deeply connected to the company's roots in art, music and self-expressive youth culture. The large central courtyard links indoor and outdoor meeting spaces for easy, flexible interactions while concrete floors and jam rooms allow employees to literally skate between work and play.
Average Salary for a Design Director: $107,000
Top Job Skills: Photoshop, Illustrator and Project Management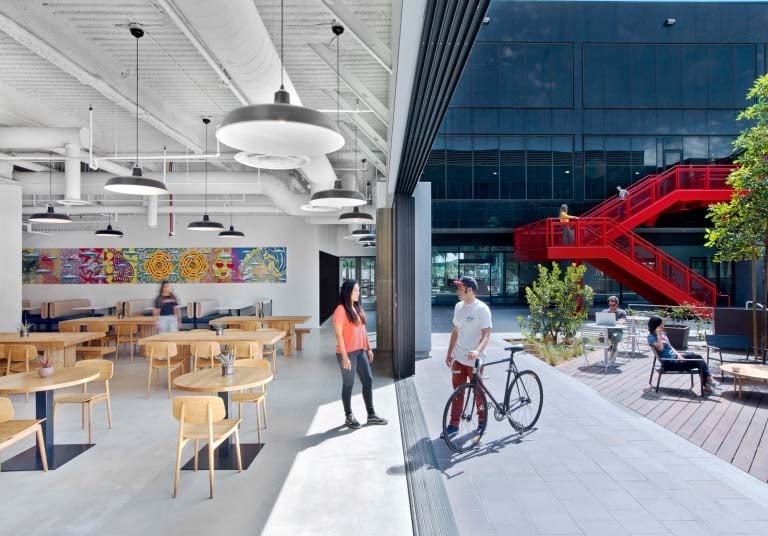 Photo by Eric Laignel
Home sweet home. This sugar-coated hive welcomes community with honeycomb walls and den-like rooms.
The Bumble Movement has shifted old-fashioned power dynamics from male to female, and The Hive reflects these same values by rejecting traditionally masculine office design. The space reinforces a philosophy of positive and productive living through bubble gum neons reminding employees to be kind. Retro textiles and feminine details match the empowering mood.
Average Salary for a Digital Marketing Manager: $96,000
Top Job Skills: Customer Service, Social Media and Public Speaking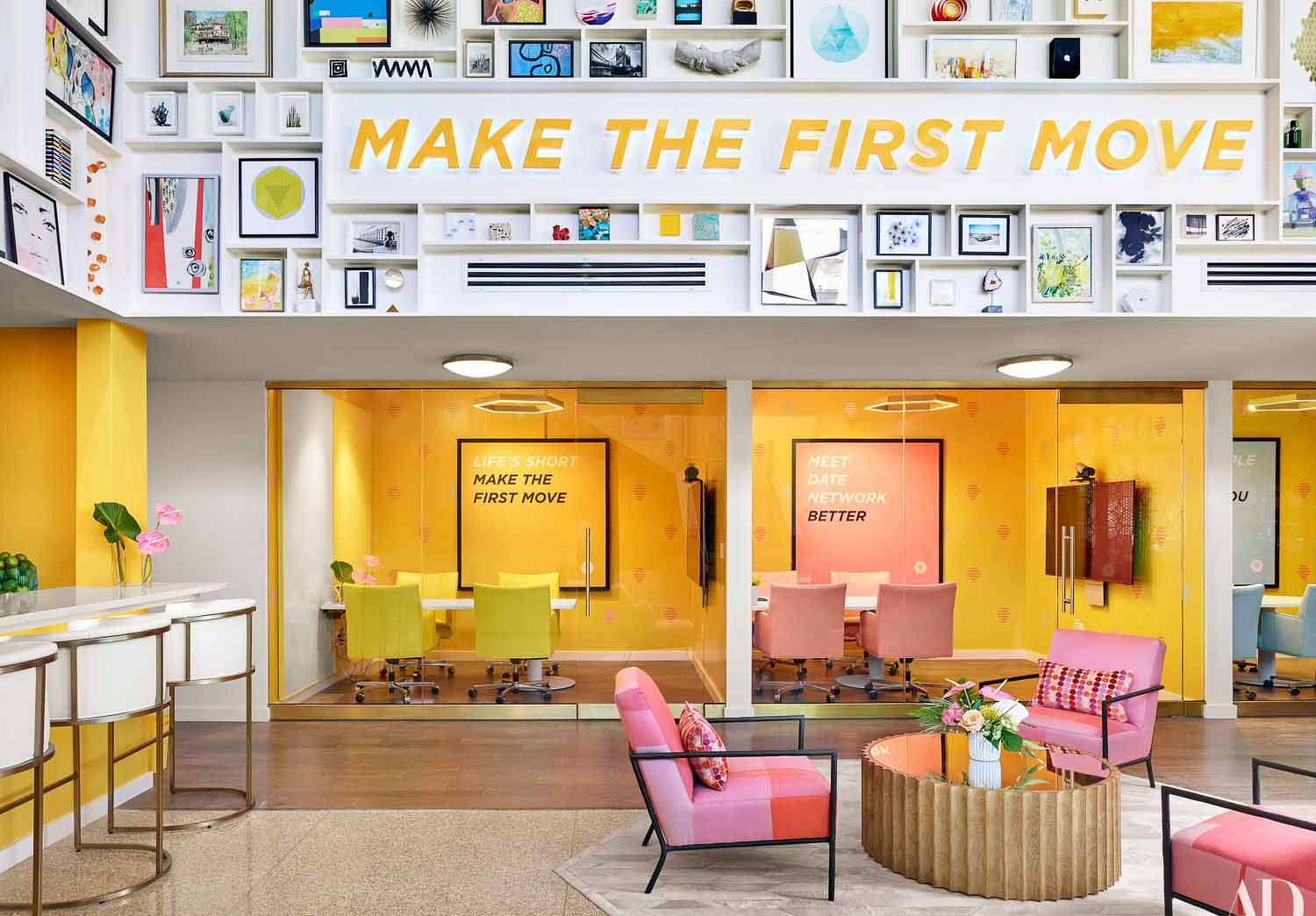 Photo by Casey Dunn
Great workspaces offer choice. This one combines global technology with local texture for cool, comfortable and flexible settings.
Employees at this location have the opportunity to choose how they work. Collective, private and adjustable spaces promote the depth and variety of activity taking place, while the building itself pays tribute to its host — Nashville. Heavy wood and steel entryways reminiscent of the railroad lead guests to a mosaic of the city.
Average Salary for a Senior Software Engineer: $117,000
Top Job Skills: Sql, Java and Agile Methodologies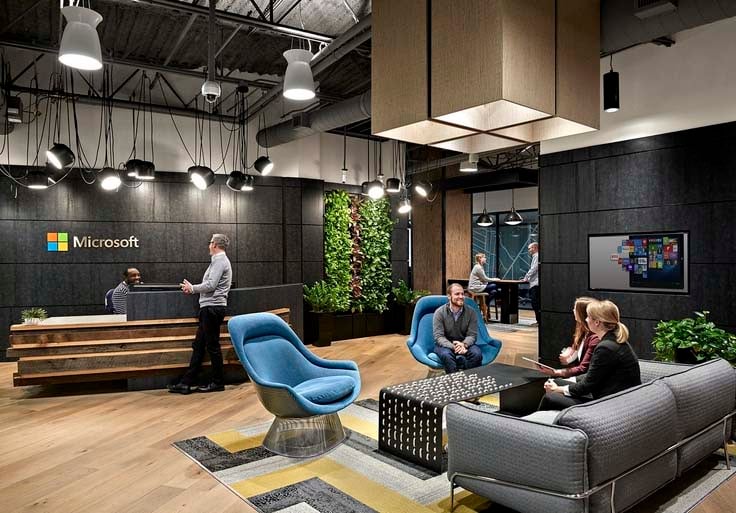 Photo by McGinn Photography
Postmates employees don't have time to be boxed in. So their uncluttered workplace leaves plenty of room for fun.
The collaborative and creative problem solvers at Postmates need space to learn and grow, and a stripped down, no-frills workfloor lets possibility manifest without physical or hierarchical borders. Employee benefits echo this freedom with wellness workshops, unlimited snacks and zero responsibility for health insurance premiums.
Average Salary for a Senior Account Executive: $86,000
Top Job Skills: Sales, Research and Event Planning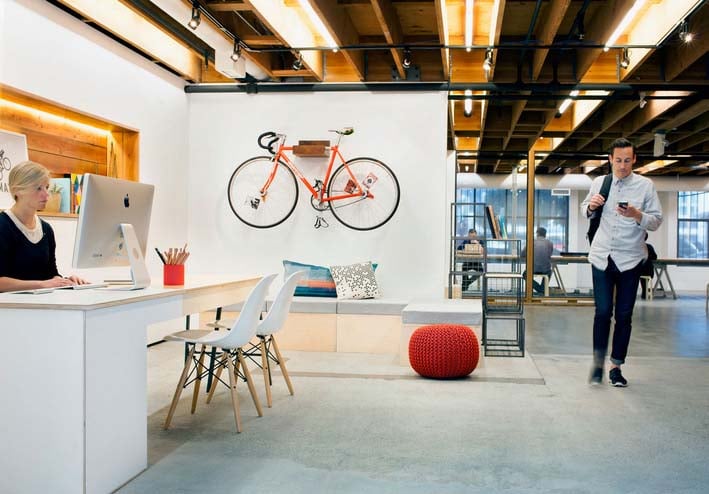 Photo by Carlos Chavarria
Dripping with amenities, this campus boasts an indoor taco truck, a podcast studio and an exclusive employees-only hotel.
With 18 floors of office space, this massive operation can accommodate conveniences even the trendiest of companies can't. From sushi to on-site dry cleaning, Verizon believes the best ideas come from people who work together. Take the full tour with Business Insider.
Average Salary for an Engineer: $83,000
Top Job Skills: Telecommunications, Sql and Java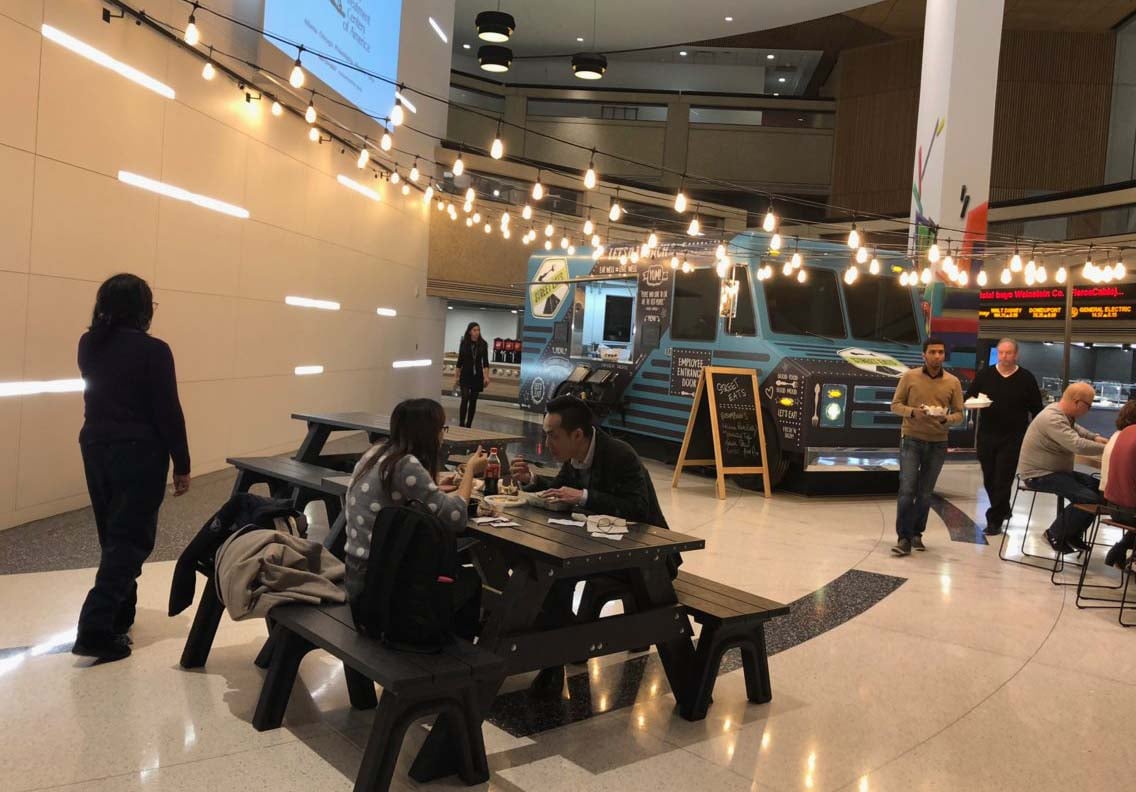 Photo by Verizon
Employees pay homage to gaming roots with collaborative living rooms linked by portals (and other serious tech).
This Bay Area battleground is a Mecca for passionate gamers who play as hard as they work. Nine floors of competitive gaming, live-streaming and Kappucino drinking make up this tech-professional's paradise. Take a look inside with BI.
Average Salary for a Software Engineer: $101,000
Top Job Skills: Java, Sql and Python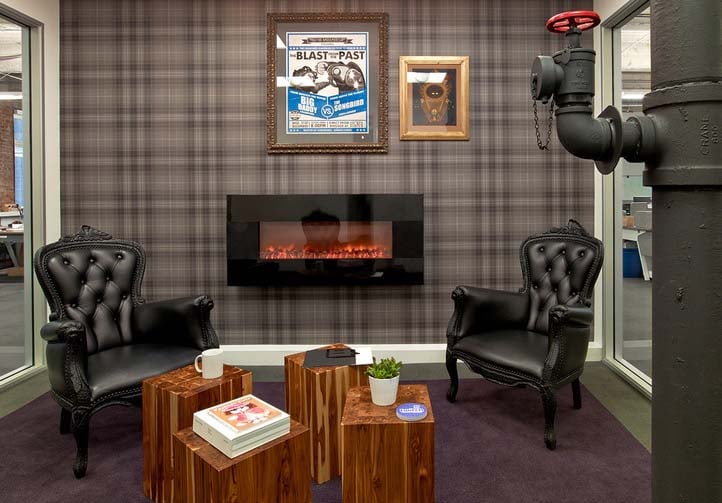 Photo by Eric Laignel
This vertical campus encourages digital and tactile exploration through colorful, versatile and interactive moments.
The design team responsible for remodeling Adobe transformed a cold and corporate structure into a warm and inviting place to work. On the rooftop, a once neglected trellis boasts a stunning new arena for eating, entertaining and working with a view.
Average Salary for a Senior Technical Writer: $82,000
Top Job Skills: Agile Methodologies, Java and HTML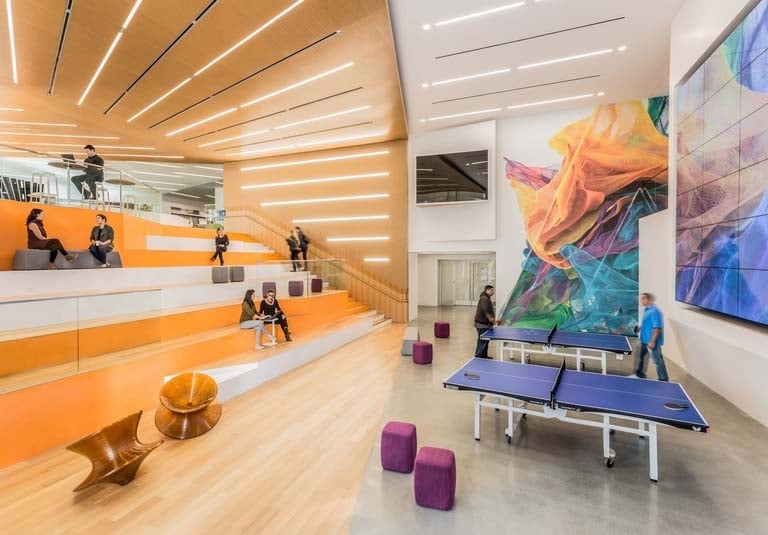 Photo by Emily Hagopian
Ditch the dated boardroom. This meeting space is inspired by an actual listing, reflecting company-wide values of variety and comfort.
The natural architecture of the Airbnb CX Hub divides the space into two opposing work environments for active collaboration versus focused privacy. Housed in a historic location, the building is unmistakably Portland, but travel through its hallways and you'll find employees hosting meetings on front porches, in farmhouse kitchens and even a geodesic dome from Joshua Tree.
Average Salary for a UX Designer: $97,000
Top Job Skills: Photoshop, User Experience and Adobe Creative Suite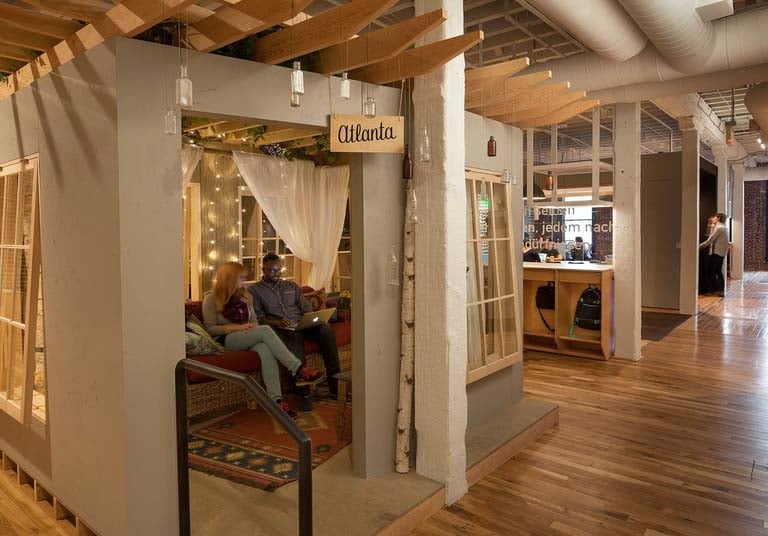 Photo by Jeremy Bittermann
An emphasis of architecture over artifact makes this office a sleek tribute to Florida's iconic racing company.
This office fits seamlessly into its cosmopolitan home with minimalist appeal and views of Central Park. Glass and concrete structures tip their hat to NASCAR history while branded art plays subtly on the walls.
Average Salary for a Director of Marketing: $75,000
Top Job Skills: Social Media, Public Relations and Sponsorship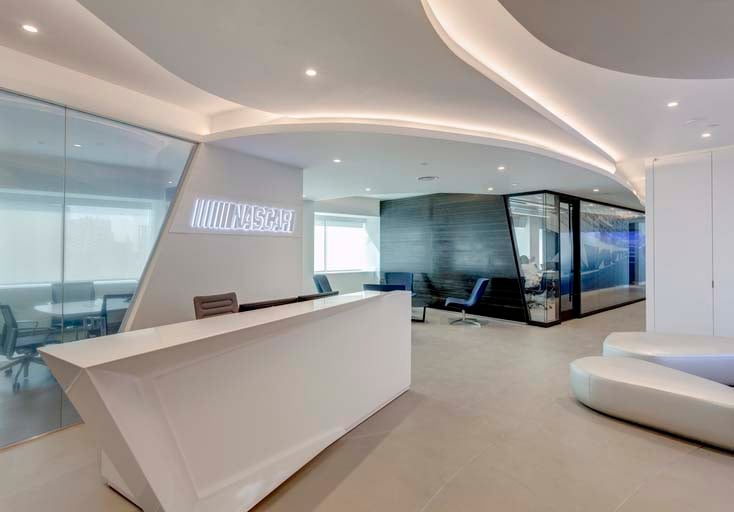 Photo by Brent Gollnick
Want to learn more about hiring trends?
Ask about Steppingblocks for your school, and get full-story graduate insights without the need for manual surveys. Access a dataset of over 100 million alumni, and learn who your top employers are by cohort, degree type and more.
Want to work for one of these trending companies? Get data-powered career exploration with the Steppingblocks Student Platform. Research your future career with real-world stats about your major, your interests and your dream job title. Start your 14-day free trial.
Tour the world's most creative spaces at Office Snapshots, and get inspired to get hired.