For many, the prospect of applying for student loans is promising. The debt is worth the opportunity. It's an investment for the future. Qualified supply can't meet demand in the market, and a degree will guarantee a job. Sound familiar?
Our institutions have advocated student loan debt without educating those who apply. It's not until after graduation students are hit with bills they can't afford, sometimes negating the income increase that hopefully comes with a college degree. Not to mention, many students sign up for loans they don't need and miss out on scholarship opportunities. Wouldn't it make more sense to understand projected debt and earnings by degree before you step foot on campus? Watch this.
In 2017, it was reported that total student loan debt had exceeded $1.48 trillion, with the average borrower owing $39,400. Luckily for some, there's loan forgiveness — with a few catches. We'll help you navigate the fine print.
There are two basic ways to have your student loans forgiven: by working in public service or by utilizing one of several income-based payment plans. Both of these options are tedious, with their own set of requirements, terms and conditions, so make sure to review carefully to find your best fit.
Student Loan Forgiveness: Public Service Work
If you decide to work in public service, namely jobs in the nonprofit or government sectors, your student loans can be forgiven with the Public Service Loan Forgiveness Program. To qualify, you need to make 120 monthly payments over 10 years and be enrolled in an applicable repayment plan. You also need to work full time for your company, and only direct loans made by the government are eligible to be forgiven.
If you have high loan payments in relation to your salary, this option is valuable.
Earlier this year, Congress created a $1.3 trillion federal spending plan with $350 million set aside for Public Service Loan Forgiveness, so those with ineligible repayment plans may now have a second chance. But Ron Lieber with the New York Times warns us of the bureaucratic traps we could fall into including paying too much and working for the wrong employer, ultimately leading to disqualification from the program. Remember, it's not about what your specific job is, it's about the organization you work for and if it's deemed a public service by the guidelines set by the program.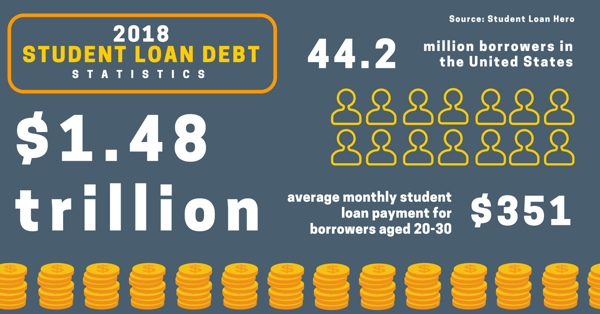 Student Loan Forgiveness: Income-Based
This one is slightly more complicated, but here's the idea: certain income-based repayment plans allow you to have your student loans forgiven after 20 or 25 years. But again, only direct loans made by the government are eligible.
There are four types of income-based plans you can choose from.
Income-Based Repayment: This one asks you to pay 10-15% of your net income for a period of 20-25 years, after which your loans are eligible for forgiveness. Any forgiven loan amount is taxed as income.
Income-Contingent Repayment: For this payment plan, you'll have to pay 20 percent of your net income or the payment on a 12-year fixed plan, whichever is less. After 25 years, you'll be eligible for loan forgiveness. It's important to note that ParentPLUS loans are also eligible for forgiveness under this plan.
Pay As You Earn: With PAYE, your payment is capped at 10 percent of your net income, and your loans will be forgiven after 20 years. Your payments must be lower than what they would be under the standard 10-year repayment plan.
Revised Pay As You Earn: This one is similar to PAYE, except there's no income cap. Anyone with eligible loans can sign up for RePAYE, but be careful you won't end up paying more than you would under the 10-year repayment plan.
Student Loan Forgiveness: Teachers, Nurses and Lawyers
Education, healthcare and law are three hardworking pillars of our society eligible for additional assistance in terms of student loan forgiveness. In addition to the Public Service Loan Forgiveness program and the Federal Perkins Loan cancellation, teachers can apply for Teacher Loan Forgiveness after teaching for five years. The NURSE Corps Loan Repayment Program provides forgiveness for nurses, nurse practitioners and faculty working in underserved communities. State programs are also available.
Lawyers are afforded several options through their state, school or organization including attorneys who hold positions with the Department of Justice, in the public sector or other qualifying group. Universities and state bar associations may offer programs on top of those listed here.
Get The Complete List of Student Loan Forgiveness Programs and Options by Student Loan Hero.
Is Student Loan Forgiveness Right For You?
Loan forgiveness sounds enticing, but it truly isn't for everyone. Interest accrues on any payment plan, so it's advisable to analyze how you'll stack up. If you have a career with a low lifetime salary, then loan forgiveness is for you. But if you're in a high-salary career, you should consider the 10-year repayment plan, as opposed to shelling out 10-15% of your salary for 20 years. The overall goal is to pay the least amount over time, right?
What Not to Do When in Need of Debt Relief
There are several "debt relief" scams that prey on graduates who may be drowning in debt or just wishing to cut expenses. Some report receiving phone calls, emails, letters and other forms of contact from presumably legitimate companies. LendEDU, whose goal it is to create transparency in the student loan and refinancing market, tells the story of what happened to one woman whose "Holy Grail" of repayment options turned out to be a golden opportunity for the scammer instead.
Your best bet is to educate yourself on the signs of a scam, and learn the companies with your best interests in mind. What is the first sign you'll recognize? You never have to pay for help with student loans, so any "upfront fee" is a red flag. NerdWallet has a watchlist of known student loan scams, and the U.S. Department of Education has a forum full of tips to help curious readers.
Pay Attention to New Legislation
With student loan debt at crisis levels, Congress is paying attention. Some legislation provides deferment and cancellation opportunities for founders and employees of startups. Other laws force colleges to keep inflation costs low. Unfortunately, some proposals are not in the student's best interest. The Trump Administration recently proposed new guidelines making it harder to receive relief in cases of fraud. LendEDU spells out the details of the plan to cut Student Loan Forgiveness by $13 billion.
All things considered, talk to your student loan servicer about what's right for you. Make sure you're going down the right path from the moment you get your acceptance letter, and avoid unexpected financial obstacles down the road. As with any government regulated policy, the forgiveness plans are subject to change. Loan forgiveness takes several years to apply, so don't ignore what's happening behind the scenes.