It's 2020. We expect our inboxes to be personalized at every level. Not only should the sender know our name, they should know who our favorite sports teams are, what we buy from Amazon, where we want to travel next and who we spend our weekends with. If it doesn't resonate, we don't care. Imagine getting an invite to a "Singles Over Sixty Bake Night," but you're under 40, married and gluten-free.
It's no different when the sender is our alma mater.
As an influential member of your university's administration and staff, how do you serve your former students? Try building meaningful and sustainable Alumni Affinity Groups.
Support Your Mission With Segmentation
You and your colleagues understand the importance of segmentation and can't support your university's mission without it. For alumni relations, advancement and engagement teams, the mission is consistently clear:
We want to build a lifelong and worldwide community of alumni connected to the school and to each other. Serving their diverse needs and supporting their interest in our community is key to success. We want to turn their commitment into action and inspire our alumni to make a difference now and for generations to come.
To reach these goals you must first reach your alumni, and there are a number of ways to accomplish this. Develop email nurture campaigns, send newsletters, host events and conduct interest surveys. Highlight alumni success stories and get active on social media. The needs of your university will drive a successful engagement campaign. But when convincing alumni to get involved or give back the message is not, what will you do for me? Instead the message is, what can I do for you?
Higher Ed Live outlines three paradigms for a successful alumni engagement strategy:
1. Continued involvement from alumni must be earned, not expected.
2. Strategy must be built around the needs of alumni, not the university.
3. The best content always prompts an action.
So how do you achieve this? The right content is meaningless if sent to the wrong person. That's where segmentation makes the biggest impact. Structure every campaign around a targeted alumni group and their professional, regional or cultural identities. As you classify your alumni, you'll notice communities with clear boundaries and those that overlap. This is the foundation for building relevant and successful Alumni Affinity Groups that ensure participation from multiple approaches. To learn how the Virginia Tech Alumni Association does it, view their Strategic Plan.
Today's Alumni Are Not Yesterday's Students
It's easy to segment by college or major, but reaching your alumni today may look different than reaching them when they were students. People move. They get married. They start companies and leave jobs. They develop new interests and get hired in industries far different than what they majored in. You might have more success promoting initiatives they care about now.
Affinity groups represent a way for alumni to organize around an industry or professional interest or around a shared identity ... whether it's military service or museums, concentration or career, there are alumni nearby who have something in common with you.

-University of Chicago
The first challenge is commonly this: how to get started without wasting resources on affinities that don't represent your alumni population. First destination surveys provide one vantage point, pilot studies provide another, but neither picture is complete. The second challenge comes back to unreliable contact records. This leads to disengagement and severely limits any ability to connect on a personalized level. The most accurate representation of your alumni today can be found in big data insights — specifically, the workforce and education outcomes of your graduates.
How to Get Started With Alumni Affinity Groups
To give you an idea of how to segment your alumni, here's a snapshot of Computer Science graduates from University X: Out of 170,308 total alumni, 1,452 who graduated from the College of Computer Science and Engineering live and work in northern California, with the highest concentration in the San Francisco Bay Area.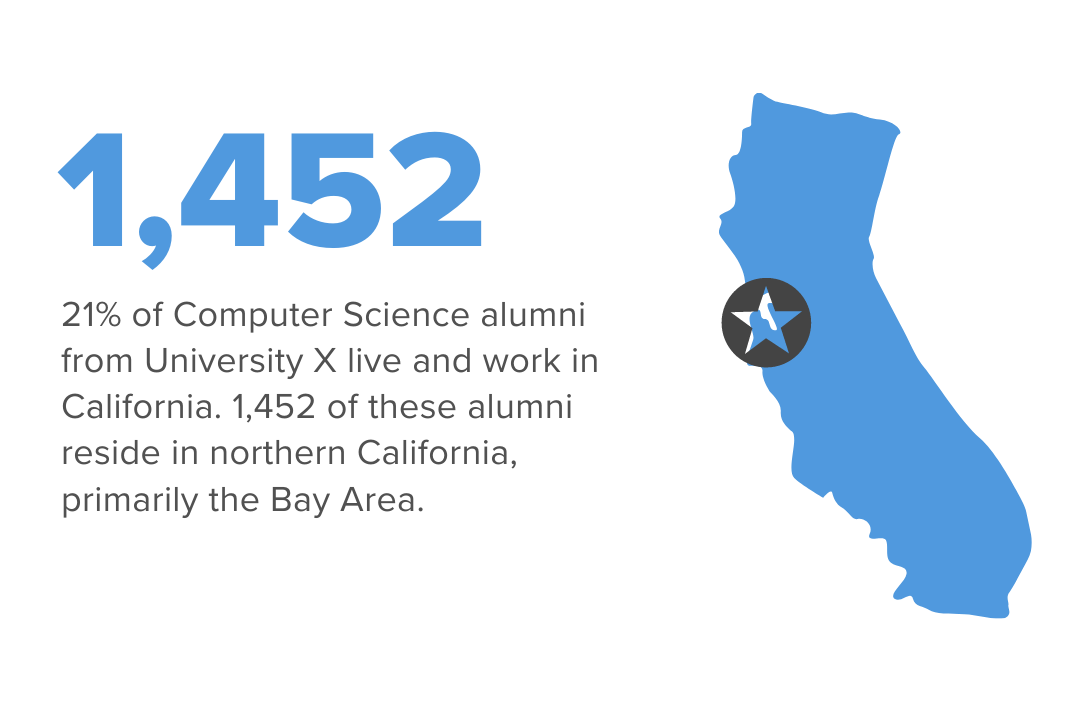 This insight reveals opportunity for University X to establish an industry-based affinity group in a particular region. You can use this same insight to narrow even further and identify high-earners for advanced fundraising campaigns. With either application, you're promoting mutually beneficial relationships through networking events, philanthropic activities and professional development programming.
There's more to the story. Using the same workforce and education outcomes to identify the 1,452 alumni illustrated above, you can segment even further by gender, employer, interests and skills. View the complete snapshot here.
Want an alumni snapshot for your school?
Steppingblocks is a data and analytics engine that provides workforce and education outcome insights on over 100 million people in the U.S. Together, we can create a confident ecosystem of students, institutions and employers by understanding our impact at scale. To get an alumni snapshot for your institution, let's talk.
Data is everywhere. The difference is how we use it.